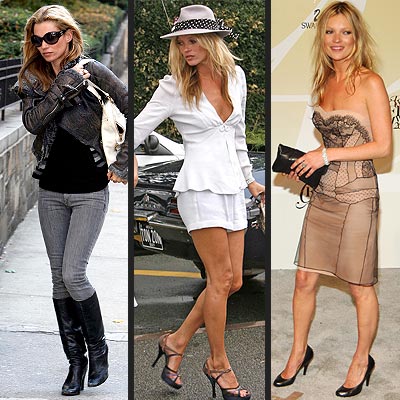 (photo,
http://www.peoplestylewatch.com/
)
Kate Moss, model, bad-birl, but more importantly, style icon. She sets trends rather than following them and defies any fashion rules. One rule she does abide by: "Rules are made to be broken."
While the rest of us were wearing booties, Kate opted for over-the-knee boots; while we coordinate our textures, Kate mixes hers. She love body hugging pieces from head-to-toe, while we alternate looser tops and bottoms with fitted ones.
Kate Moss is known for mixing cheaper items with more expensive ones. For example, she may wear a Top Shop tee with Members Only liquid leggings, Christian Louboutin pumps and Balmain leather jacket. As kate Moss states "the advice I now give-never wear a designer look from head-to-toe." So you will never see Kate rocking an entire Louis Vuitton ensemble.
Tips on how to achieve a Kate Moss-esque look:
Don't be afraid of prints.

Add plenty of flats to your wardrobe.

Wear body-hugging leathers and other textures.

Mix investment staples with cheaper items (Jimmy Choo shoes with Zara outfit and Burberry jacket).

Follow your own trends. Don't be afraid to stand out.
Liquid Leggings, Members Only $88
Cap-Sleeve Silk T-Shirt, Gap $50
Divided Exclusive Leather Jacket, H&M $160